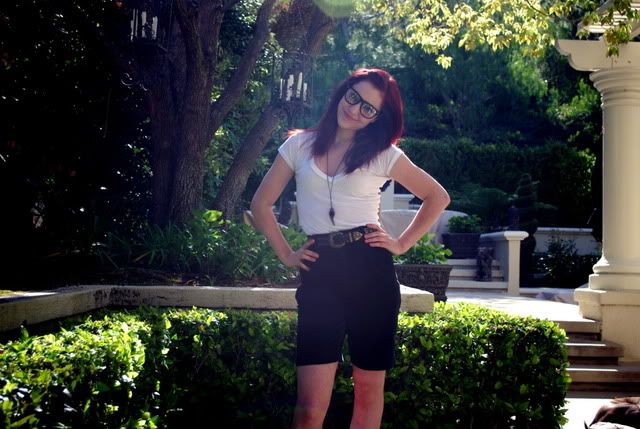 I call these shorts my "pirate" shorts. Not exactly sure why.
Isn't this belt incredible? My mom finally let me have it. I also have the same one in white. I'd wear it with everything if I could, but unfortunately I can only wear it with high-waisted things.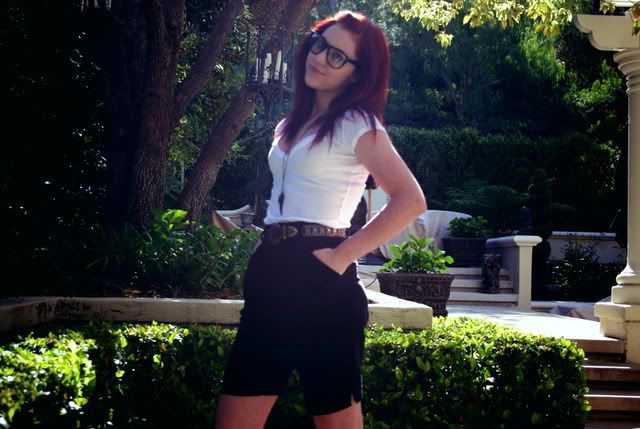 I felt like stepping out of my "norm" of pants and jeans to wear shorts. I actually love this pair, they're super comfortable and made of soft velvet. I just HAD to wear my glasses. It made my outfit complete, geek c'est chic. (:
Shorts: Vintage Espirit
Shirt: BGD
Belt: Vintage
My week has pretty much been consumed with homework. I decided to take a picture of what has become my "home". I always have a giant mug of Lipton tea with milk, my trader joe's organic popcorn (AMAZING), my computer, and yucky homework. I'm currently focusing on psychology. I actually like it more than I thought I would. It's inspired me to do a photoshoot of some of the psychological disorders- depression, schizophrenia, obsessive-compulsive disorder, etc.
Hopefully this summer I can finally do all my "projects" that are stored in my brain and make them a reality. I have what I call my "inspiration journal", where I collect pictures and words and ideas for shoots that I want to do with Taryn (
style phenomenon
). It's quickly accumulating a year's worth of potential "shoots".